Gartner has published its 2020 Gartner Magic Quadrant for Web Application Firewalls (WAF) and Imperva has been named a Leader for the seventh consecutive year! It's rare to be a part of defining a market and even less common to lead that market through a fundamental shift.
Leading the market through an inflection point
Market evolutions happen on a decade-scale, rather than an annual pace, and 2020 is the key inflection point for the WAF market. Maintaining our position this year means so much to Imperva because the formerly fragmented application security space is converging into a unified Cloud Web Application and API Protection (WAAP) space.
At Imperva, we know how much applications and attacks have changed in the last five years, and that's why we built a platform that combines previously disparate technologies. Applications consist of microservices, APIs, serverless functions, and unstructured data stores that didn't exist only a year ago. To protect these modern applications now and in the future, Cloud WAAP needs to stop DDoS attacks, malicious bots, attacks on open APIs, and supply chain fraud.
Gartner named Imperva highest overall for its Completeness of Vision in the Leader's Quadrant: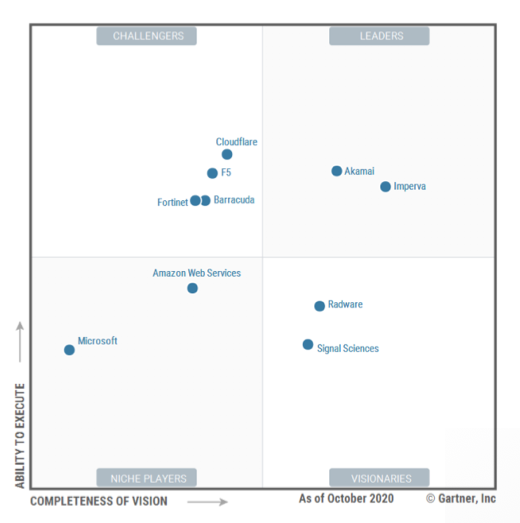 Protection now requires security through the stack
Imperva API Security integrates with the leading API management vendors and takes advantage of advanced bot mitigation to protect API endpoints against account takeover and all types of OWASP automated botnet threats. Client Side Protection gives security teams visibility and control over any third-party JavaScript code embedded in web applications.
Always-on DDoS protection, with the industry-best mitigation SLA of 3-seconds, protects at the edge to ensure availability even when under attack. And Runtime Application Self-Protection (RASP) protects applications from the inside, blocking attack techniques invisible to a standalone WAF, and on workloads where operating system agents cannot be deployed.
Digital transformation needs Cloud WAAP
I joined Imperva this year partially due to my affinity for the cloud-native technologies we protect, like auto-scaling, continuous deployment, and cascading software patch rollouts. But that's because I'm a geek. The deeper reason is to be a part of securing organizations as they adopt the modern technology necessary to innovate in their industry. In fact, I'll be talking about this in more detail on my upcoming Webinar: Protecting Beyond the OWASP Top 10: Why Analysts Suggest a move to Cloud WAAP, register here to join me in November!
To read the complete report, download the 2020 Gartner Magic Quadrant for Web Application Firewalls.
Original article from: Imperva