As more businesses move their operations to the cloud, the threat of cyberattacks increases exponentially. Protecting your assets in the cloud is just as important as locking your doors and setting your alarms. However, the threat vectors for cloud security are different from physical security. In fact, a recent cloud security report revealed that 76% of respondents have deployed in two or more clouds, making security even more challenging.
To protect your cloud assets, you need a comprehensive security strategy where all elements work together seamlessly. This is where Check Point's CloudGuard comes in. The CloudGuard security platform provides a multi-layered security approach that automates changes and updates, saving you time, resources, and money. It focuses on prevention rather than detection and containment and has deep expertise in solving cloud security challenges.
Here are some of the challenges Check Point helps businesses solve:
Hybrid Cloud – With cloud access direct, remote sites or users don't need to backhaul connectivity to other security gateways or data centers. You can use scalable virtual appliances in the cloud to extend detailed security across all relevant clouds, with one single Smart user console programmed with a common policy to protect your enterprise.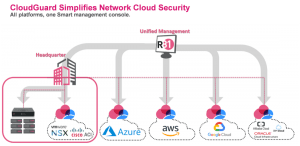 Cloud Posture – Keeping track of cloud assets can be overwhelming when moving or extending in the cloud. Adopting a tool that automates governance across multi-cloud mitigates risk and saves you time, giving you total visualization and assessment of your security posture. This enables you to detect misconfigurations and enforce security best practices across your compliance frameworks.
Security Consolidation – Using multiple cloud security products from various vendors leaves organizations with a patched architecture, increasing total cost of ownership (TCO) and reducing return on investment (ROI). Integrating and automating between different vendors' products can also become complicated. Cloud Security unification can yield lower TCO.
For organisations, Check Point specialises in cloud security and offers the tools and skills to help enterprises create a complete virtual security door. Their CloudGuard security platform can create a whole door for you, or if need be, it can just fit a new lock or extra bolt if needed. Their role as your trusted cloud security partner helps strengthen your cloud security posture and policy, making growing into the cloud easy, familiar, and less risky.
Considering this solution for your organisation? DataGroupIT is Africa's leading Value-Added Distributor (VAD). By partnering with the best selection of established and emerging technology vendors across the globe, we, provide complex solutions for any size business, including Enterprise and SME markets across the African continent.
Our product portfolio offers comprehensive solutions for IT Security, Infrastructure and Enterprise Software.
We are fully committed to our business partners. Channels & vendors success is our #1 mission. Our professional teams across Africa deliver exceptional sales, presale, logistic, marketing and financial support that create the ultimate platform to accelerate our business partners' success.
Speak to us today to find out more about this solution and more. info@datagroupit.com